THE GERKOMAN PRAYER







CHAINS OF HELLENISM

FREEDOM DENIED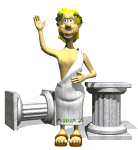 OUR FATHER WHO ART IN SOUTHERN GREECE

HALLOWED BE THY NAME

THY SOUTHERN GREEK KINGDOM COME

THY WILL BE DONE IN MACEDONIA

AS IT IS IN SOUTHERN GREECE

GIVE US OUR DAILY DOSE

OF GREEK PROPAGANDA

FORGIVE US FOR BEING MACEDONIANS

AS WE FORGIVE THE GREEKS

WHO TRESPASS AGAINST US

LEAD US NOT INTO FREEDOM

BUT DELIVER US

FROM OUR MACEDONIAN ROOTS

FOR THINE IS

THE SOUTHERN GREEK KINGDOM

THE POWER AND OCCUPATION

FOREVER AND EVER AMEN

S.O.M.A.






Lelemajkohhhhhhhhh! za sramota.


VENIZELOS
STATED
THE QUESTION OF THE MACEDONIAN MINORITY WILL BE SETTLED AND HE WOULD BE THE FIRST IN GRECE TO OPEN
MACEDONIAN SCHOOLS


ELLHNES
Oi MakedoneV den einai EllhneV, oute Serboi, oute Boulgaroi, autoi einai MakedoneV. WV idiaiteroV laoV, ecoun dikaiwma autodiaJeshV mecri apocwrishV, ecoun dikaiwma eleuJeriaV kai anexarthsiaV opwV kai oloi oi alloi laoi twn Balkaniwn.
APOMNHMONEUMATA
GERMANOU KARABAGGELH
GEWRGIOU DIKWNUMOU MAKRH
1. Afou den eica pia na perimeno bohqeia apo thn Ellada, eprepe na dokimasw n apospasw kanena boulgarojwno oplarchgo kai na ton peisw kai na ton metastreyw kai na ton kanw ELLHNA oplarchgo. Ki etsi apojasisa na sunanthsw ton Kwta apo th Roulia.
2. Etsi oi dikoi maV emeinan eleuqeroi kai sergianizan skotontaV olh mera sto corio.
3. Egw phra touV ennia pou htan apo to Boulgaromplatsi, janatiko boulgariko cwrio kai touV apekejalisa ameswV. O FilwtaV ephre touV allouV ennia apo to cwrio Bissanh kai touV ajhse eleuqerouV.
4.To bradu touV ephra olouV se mia rematia kai touV eskotwsa, touV etoujekisa, ektoV apo duo pou m ebebaiwsan oti htan EllhneV kai gnwstoi tou Despoth.
5. Ekeinh th stigmh eice plhsiasei apo pisw maV o papa-DrakoV kai cwriV na ton antilhjqoun tou errixe mia toujekia scedon ex epafhV kai to paidi epese mes sto lakko pou eskabe. Kai argotera mou exhghse oti, epeidh autoV enai papaV, de qelei na fainetai kai me parakalese na to uposthrixw oti egw to ekana.
6. To 1905 sto ZelenitV ginotan enaV gamoV boulgarikoV. Auto to emaqe to swma tou Kaoudh, mphke sto gamo ki epeidh esbusan ta jwta errixe sta skoteina omobrontia kai skotwse dekapente h dekaxi BoulgarouV.
Ep onomati tou Pantodunamou Qeou kai thV PatridoV
THE EXCERPTS ABOVE DESCRIBE THE COUNTLES ATROCITIES COMMITTED BY THE VAMPIRES OF THE GREEK CHURCH AND ITS AGENTS AGAINST THE MACEDONIANS WHICH THEY CONVINIENTLY REFER TO AS "BULGARIANS"
GREEK
ANCIENT MYTHS
PROPAGANDA
MEGALOMANIA

EGOISM
OPPRESION
ASSIMILATION
PSEUDO-HISTORY
THREATS
ARROGANCE
CAN'T HIDE THE TRUTH
1912-1913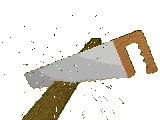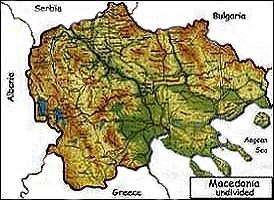 ... the people that do not know their history are doomed to repeat it...