MACEDONIA FOR THE MACEDONIANS

MACEDONIAN POETRY









Georgi F. Todorovski
Roden e na 10 Januari 1937 godina vo s. Zhelevo, Lerinsko, Egejska Makedonija. Po zavrshuvanieto na Vtorata svetska vojna, vo 1945 godina, kako dete na 8-godishna vozrast, od strana na grchkite vlasti [ vo sorabotka so Anglija] beshe oddelen od roditelite i odveden vo specijalen detski dom vo Lerin za da go napravat grchki vospitanik. Vo tie domovi bea odveduvani site
deca do 10-godishna vozrast chii roditeli se proiznesuvaa deka se Makedonci. Koga vo 1947 godina pochna Graggianskata vojna vo Grcija, toj cela godina nemozheshe da stapi kontakt so svoite roditeli.Vo 1947 godina, so osum svoi vrsnici, uspea da pobegne od domot i da se vrati vo svoeto selo, a po nekolku meseci, so drugi begalci se najde vo Bela Crkva, vo Srbija [Jugoslavija ] kade shto zavrshi gimnazijata. No vo 1954 godina,so mnogu drugi deca shto imaa nad 16 godini, beshe povtorno nasilno deportiran vo Grcija kade mu bea odzemeni site knigi i prisilno beshe odveden vo takanarechenoto Kralsko zanaetchisko uchilishte Leros. Shto vsushnost beshe eden vistinski zatvor. Vo Leros ostana 13 meseci, hrabro gi podnese site iskushenija i traumi, no grchkite 'vospituvachi' ne uspeaja da go skrshat negoviot MAKEDONSKI DUX. Zhivee vo Toronto, Ontario od Januari 1957godina.
Od knigata Mostovi
------------------------------------------------------------------------------------------------------------
By Georgi F. Todorovski
ISPOVEST NA OBESPRAVENIOT MAKEDONEC
Jas sum obespraveniot Makedonec od Egej, od Zhelevo, Lerinsko. Ke vi zboruvam kako eden gol Makedonec, izmien, ischisten od site tugi vlijanija. Ke vi zboruvam I ne se plasham od nikogo: Nitu od srbskite, nitu od bugarskite, nitu od grchkite shovinisti. Shto poveke ke mi storat? Ke me teraat od mojata zemja? Ke mi gi zabranuvaat nacionalnite I chovechkite prava? Ke me tepaat? Ke me machat? Ke me kolat? Se mozhat da pravat ama ne ke mozhat da me izedat. Ke zboruvam I vistinata ke ja kazhuvam nasekade I na sekoj koj ke sretnam.
Makite shto gi dozhiveav, makite shto gi istrpiv, tragedijata shto ja istrga I ja trga mojot narod so zborovi nese dokazhuva, e mnogu golema, e mnogu teshka, e mnogu strashna-kako nekoja bura da pomina I krena se; I drva, I kuki, I lugje, I deca oddeli od majki.
Nekoj od moite brakia I sestri me sovetuvaat da ne baram mnogu odednash, da nemu padni machno na nashite neprijateli I okupatori. Jas ne baram tugja zemja, jas si ja baram mojata, toa shto nas ni pripagja, toa shto nie nashe, ubavo I milo, toa shto ni go okupiraa I ni go prekrstuvaat; jazikot, pesnata I oroto makedonsko shto ni go zabranuvaat, jas si gi baram chovechkite pravdini, jas si ja baram slobodata.
Chvrst kako kamen se storiv, solzi ne kapat od moite ochi, kapnav da se branam od grchkite shovinisti koi ja napagjaat makedonskata nacija, makedonskiot narod I nasheto postoenie. Dosta so propagandi I napagjania mu velam; izlezete od fanatizmot, izlezete od xelinizmot I dojdete da sednite na masata, ne kako fanatici, ne kako grci, da sednete kako lugje I da ja slushnite nashata strana.I nie sme lugje rodeni od majki, ne padnavme od nebo I se najdovme vo teritorijata makedonska. Nashite dedovci I pre dedovci so iljadi godini zhiveeja vo Makedonija, se borea, ja branea I umiraa za slobodata na Makedonija.
Ne mie sram da vikam I da se boram za chovechkite prava.Ne mie sram da ja krenam parolata I da demonstriram, no sam nishto ne ke mozham da storam. Iti, I toj, I taa sami nishto ne ke mozhite. Treba site zaednicki I obedineti.
Denes na Makedonecot mu e potrebno da mu se slushne glasot posilno I podaleku od bilo koga dosega za da mu donesi kraj na grchkata shovinistichka propaganda koja raboti otvoreno po site meridijani vo svetot; protiv makedonskata nacija, protiv makedonskiot narod, protiv nasheto postoenie. Iljadnici Makedonci po site meridijani vo svetot denes zhiveat so strav kako prizioneri pod taa propaganda I diskriminacija. Ete zoshto e potrebno nashiot glas da se slushni posilno I podaleku. Ova ke mozheme da go storime ako rabotime ubavo I slozhno, ako bideme chvrsto povrzani, zaednichki I bratski obedineti.
------------------------------------------------------------------------------------------------------------
Nostalgichni misli za sonot I javeto

VO ZHELEVO BILBILITE VECHNO PEAT
Gorniot naslov e fragment izvaden od enciklopedija. Vonea ushte pishuva deka vo Makedonija zhiveat najraspeanite bilbili vo svetot …! Verojatno toa se I najskapocenite zborovi napishani vo edno vakvo obemno delo. Poslednovo e fakt, zashto napishanoto e vistina, a ubavinata shto zrachi od nea e nesporedliva. Vprochen, shto bi bilo toa, neshto drugo shto bi deluvalo kako opis ili realnost poubavo od prirodniot raskosh vo zemja vo koja peat bilbili?
Zapisot na pesnata za bilbilite me vrati tri desetletija nazad vo moeto Zhelevo. Seloto e rasposlano vo Lerinskata oblast od Primorska Makedonija, [ denes , pod okupacija na Grcija ], Pesnata na ovie pesnopojni ptici me vrati so mislite vo tatkovinata zashto tochno ova selo e gnezdoto na bilbilite. Tie se tamu I denes, po gorite I livadite peat.Denes seloto e rechisi urnato. Vo znak na grchkata drzhavna tiranija selanite se raseleni. Zhelevo e mrtvo. Samo pticite kako zhiv ornament na prirodata ostanaa da go ubaveat ovoj kraj, se razbira megju niv I bilbilite so nivnata opojna pesna koja, kako da ja slusham ovde vo Kanada, preku golemite okeanski dalgi pristignata od Zhelevo… No bez da me lazhe zanesot, jas znam deka I denes bilbilite peat kacheni na granki od ovoshki pred kukite vo Zhelevo, ostaveni prazni da zjaat I stradaat od zabot na vremeto. Zhelevchani kraj rodnite ognishta gi nema. Tie, kako I jas se razseleni po svetot, ostanati samo so spomenite za ubavoto selo Zhelevo.
…Zhelevo od site strani e opkoleno so planini. Kraj seloto teche Zhelevskata reka-kako konec od gerdan, so duzina mostovi gi sostavuva tesnite patchinia so djadeto. Djadeto pak, e istorija za sebe. Pochnuva od albanskata granica I minuva niz Kostur I selata Rula, Trnava, Oshchima, Zhelevo, Psoderi, Rmensko, Lerin…I ponatamu pravi nova nizalka od sela I gradchinia, se do Solun. Ovoj pat go izgradile rimjanite, koga pominale francuzite niz Makedonija go asvaltirale.
SONOT ZA ZHELEVO
Da se zboruva za Zhelevo, znachi da se zboruva za rasplakana ubavica za koja osven ubavina ima I teror nad nea od grchkite okupatori. Zagradeno vo planinite, seloto e rechisi poplaveno od izvorski vodi. Vsrede selo grgaat cheshmi. Nema planina ili gora da nema izvori, voda lesna, studena I chista, izvorska-da se napiesh I da nemozhesh so leb da se nasitish…Zhelevo e lichno I vo zimsko vreme. Koga pagja sneg, mu dava inakva ubavina. Go oblekuva kako vo belo platno-nekakva-kralska nosija, sekoja godina se nova soshiena. Sepak, vo Zhelevo sonot e son vo letno vreme. Seloto e kako slika nenaslikana, ubavina neotkriena, livada nepokosena, polna so cvekinia povadeni, izrasnati I nesobrani I neizmirisani…Ex, tuka megju tie gori, trevi, izvori I cvekinia…tuka, mozhesh da ja slushnesh pesnata na bilbilot shto go miri I topli srceto. Tuka, toa e mestoto na rajot nad koe denes vladee molk I pustilo. Ulicite vo Zhelevo stanaa stinija, diva I obrasnata. Patchiniata so nivjeto I razurnatite kuki stanaa edno, ne se poznava nishto. Nekojpat, edno od najgolemite sela vo lerinskata okolija, kade orata I pesnite go plamtea zhivotot, sega e samo ubav spomen. Minatoto I za minatoto se zhenite I chupite oblecheni vo zhelevskata nosija koj ja pravea krasotijata na seloto ushte poubava.
KOGA REDI MAKEDONSKATA MAJKA
Ne daleku od Zhelevo e Prespa I Prespanskoto ezero, German I Nivici, Oromnik, Papli I Rudari. Ovde se ubavinite I bogastvata, planinite kade komitskite pesni se peele i kade se razvivalo makedonskoto komitsko zname. Ovde e makedonskata istorija I bogastvoto od minatoto na nashiot nesreken narod. Grchkite shovinisti prekrstija I zabranija se shto e makedonsko. Samo dve raboti ne uspevaat da gi izmenat. 1. Koga redi makedonskata majka, gorda makedonka, plache, vika I redi po makedonski; 2. Poveketo mesta, nivje, gradini I imoti koj bea krsteni od dedovcite I chukun pradedovcite na zhelevskite selani. Grchkite shovinisti ne mozhat da gi izmenat ovie iminia, zashto ne bea zapishani nikade osven vo umot na zhelevchani. Ete, sega gi pishuvam jas, za da ostanat vechni I besmrtni. I za da se srami od niv grchkiot okupator se duri ne ja napushti teritorijata na Egejska Makedonija. Makedonskite iminia od mojata porobena rodina - Zhelevo ne stojat samo vo mojata I svesta na selanite. Zad dolu navedenite iminia stojat I imenuvanite prostori vo Zhelevo koj ne se odbelezhani za grkot da gi pogrchuva, nitu pak mozhe da gi krene I odnese negde. Iminiata se: Zhelevo, Starozhelevo, Bratindol, Broda, Chukite, Vodenchiniata, Kilevska maala,Vardar maala, Ostenec, Selca, Kafeto na Temovci, Golema Livada, Kasharica, Djolintrap, Belioch, Sperkojca, Galik, Volnishtata, Zdraec, Losh trap, Asana padina, Zhelevskata reka, Rendesh, Crvenicata, Lojata, Shalojca, Kundelica, Beli orebje, Mankoj livadje, Rasarnica, Belich, Shelishte, Malata kilevska maala, Pandarcheto, Padinata, Ramna plocha, Sveticheto, Gorna crkva, Dolna crkva, Gorna maala, Dolna maala, Gjupska maala, Pitachot, Osten, Pod osoo, Temni lak, Kupo, Chezmeto, Bachorniche, Kuleto, Ostenec, Padinata, Kosachki orev, Vo slivata, Georgova glava, Oshchimskoto, Ramna plocha, Sredni reki, I planinite: Maznior, Djembra, Kokoshka, Golinata, Bigla, Pelior, I Preol.
------------------------------------------------------------------------------------------------------------

The Symbols Of the Republic of Macedonia
As defined by Article 5 of the Constitution of the Republic of Macedonia, "the state symbols of the Republic of Macedonia are the coat of arms, the flag and the national anthem. The coat of arms, the flag and the national anthem of the Republic of Macedonia are adopted by law by a two-thirds majority vote of the total number of Assembly Representatives."

The Coat of Arms of the Republic of Macedonia
The Coat of Arms of the Republic of Macedonia represents the sun of freedom rising above Macedonia, just as mentioned in the national anthem. In forefront of the coat of arms is the Shar mountain, and the waters of Ohrid lake. The Coat is bounded with wheat and poppy plant laterally, and on the basis with a Macedonian national motif, often found on the Macedonian national outfits (dresses).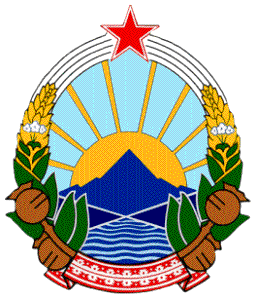 The National Flag of the Republic of Macedonia
The flag of the Republic of Macedonia represents a golden sun on a red surface. Gold and red are the characteristic colors of the Macedonian state.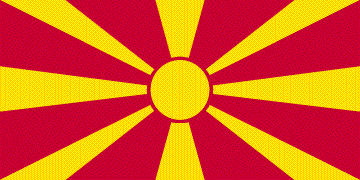 Denes nad Makedonija
Denes nad Makedonija se ragja
novo sonce na slobodata
Makedoncite se borat
za svoite pravdini!
Makedoncite se borat
za svoite pravdini!
Odnovo sega znameto se vee
na Krushevskata Republika
Goce Delchev, Pitu Guli
Dame Gruev, Sandanski!
Goce Delchev, Pitu Guli
Dame Gruev, Sandanski!
Gorite Makedonski shumno peat
novi pesni, novi vesnici
Makedonija slobodna
slobodna zhivee!
Makedonija slobodna
slobodna zhivee!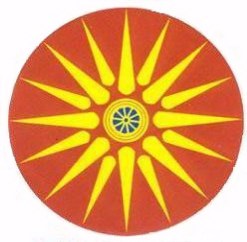 STAR OF KUTLESH
Today Above Macedonia
Today above Macedonia,
the new sun of liberty is born
The Macedonians fight
for their own rights!
The Macedonians fight
for their own rights!
For now on, the flag flies
of the Krushevo Republic
Goce Delchev, Pitu Guli
Dame Gruev, Sandanski!
Goce Delchev, Pitu Guli
Dame Gruev, Sandanski!
The Macedonian forests
sing in one voice,new songs,
of news
that Macedonia is liberated
and liberated it lives!
Macedonia is liberated
and liberated it lives!

MACEDONIA BEFORE 1912